News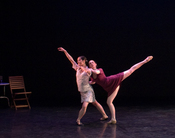 Elisa Toro Franky and Keelin Ryan at the dress rehearsal. (Photo: Andrew Clearfield)
ARIAS at MMAC January 26, 28-29
12.09.2010
Can't Sleep, Inc. presents
Christopher Caines Dance Company in
ARIAS
Manhattan Movement & Arts Center
248 West 60th Street, New York City
between Amsterdam & West End Avenues
Wed., Jan. 26 & Fri.-Sat., Jan. 28-29, at 8 p.m.
For the company's 11th annual New York season, Christopher Caines creates a new version of his critically acclaimed evening-length
ARIAS
, premiered in 2000. The choreographer dances the role of A Host; the dancers and musicians are His Guests. As afternoon cocktails on the Host's terrace yield to fleeting encounters in his twilight garden and then to dream-haunted, insomniac nighttime wanderings in his house, this group of friends reveals a tangled web of romances — fulfilled, lost, longed-for, recalled.
ARIAS
is an intimate two-act suite celebrating four centuries of song, from Italian Baroque arias to Handel, Schoenberg, Federico Mompou, and Meredith Monk. The season's musicians are two of the company's most frequent musical collaborators, pianist Marija Ilic and mezzo-soprano Silvie Jensen. Guest artists include Elisa Toro Franky (New Jersey Ballet), Sean Stewart (American Ballet Theatre), and Michelle Vargo (Metropolitan Opera Ballet).

[T]he choreography, sensitively keyed to the ambience of the songs . . . is intense and edgily eccentric . . . The evening is less about dancing to music than dancing through music. — Deborah Jowitt, The Village Voice

Choreography
: Christopher Caines
Dancers
: Rika Burnham, Christopher Caines, Frank Dellapolla (Wed., Fri.), Elisa Toro Franky, Mark Mindek (Sat.), Katie Moorhead, Leigh Schanfein, Sean Stewart, Keelin Ryan, Christian Serrano-Godén, Michelle Vargo

Musicians
: Silvie Jensen, mezzo-soprano; Marija Ilic, piano
Music
: Italian Baroque arias, arr. Alessandro Parisotti; Anonymous; César Franck; G. F. Handel; Ernst Krenek; Joseph Lanner; Frederic Mompou; Meredith Monk; Michal Oginski; Arnold Schoenberg; P. I. Tchaikovsky
Lighting
: Jay Ryan
Costumes
: Feral Childe (www.feralchilde.com)
Gaynor Minden is the official pointe shoe of the Christopher Caines Dance Company (www.dancer.com

)
The performances will be followed by a brief interview and audience discussion with the choreographer and his collaborators, facilitated by dance critic Mindy Aloff (Wed.), composer Lisa Bielawa (Fri.), and Edward Henkel, producer/ interviewer of the new MovementTalks series (Sat.).
By subway:
N, R, Q, W to 57th Street; A, B, C, D, 1 to 59th Street/Columbus Circle.
Admission:
general admission $25; premium seating $40; full-time students under 26 with ID and seniors and VLA members $20 (at the door only)
Advance purchase (recommended):
Click here to order online
with a service fee of only $1 per ticket
For information and reservations (without advance purchase):
917.731.7265.